when the nanny went home...
long week end kemaren si embak pulang kampung. tapi rupanya aku tidak perlu khawatir. banyak volunteer :D
last long weekend, the nanny went home, but seemed I didn't need to worry, I had volunteers... :D
Ir bagian nguleg bumbu. pake kacamata, katanya biar ngga pedes kena bawang... keren :D
Ir mashed the spices. he wore glasses, he said mashing garlic and shallots made his eyes watering... cool :D
Ar bagian ngerajang, lumayan. walaupun ni mata ngga bisa lepas ngawasin, takut terjadi sesuatu...
Ar sliced onion leaves. not bad. but I couldn't take my eyes of the knife, afraid of something going wrong...
mbak Ibit bagian nggoreng tempe dan ayam, aku bagian was-was...
Ibit fried the chicken and tempe. I was watching afraid of the oil that might splash on her..

makasih semuanya...
yang lebih membahagiakan, siang itu anak2 makan sendiri dan lahap. enak katanya. padahal menurutku ya biasa aja, kurang asin sedikit malah... karena ikut masak kali ya, rasanya jadi beda...


thanks everybody..




what made me feel even better was, that day they had their lunch so well and quick. they said it tasted so good. I thought it wasn't that good. I even needed to put a little more salt actually. may be because they were involved doing it, made it taste different..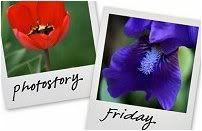 Hosted by Cecily and MamaGeek