this is for photo story friday
my children used to share
room
. but finally I can give them rooms with more space.
so I bought Ar and Ir a twin bed. the first time they had to sleep on it, they fought about who was gonna sleep on top or down. Ar decided to sleep on top that night, and they'd twist every night. so I kissed them good night and left.
at about 23.00 I peeked in and this is what I found.
dulu anak-anak harus berbagi kamar. akhirnya aku bisa memberi mereka kamar yang agak lega. jadi aku belikan Ar dan Ir twin bed. pertama kali mau pake, bingung siapa yang mau tidur di atas atau di bawah. akhirnya Ar memutuskan malam itu akan tidur di atas, dan besoknya gantian, begitu seterusnya. jadi aku cium mereka, lalu pergi.
sekitar jam 23.00 aku ngintip, dan ini yang kutemukan
why should I buy them twin bed?
jadi buat apa aku repot-repot beli twin bed?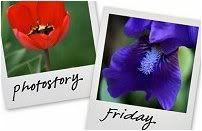 Hosted by Cecily and MamaGeek