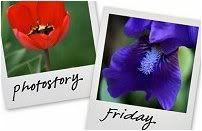 Hosted by Cecily and MamaGeek
I can not mention mine. Not that I don't have special moments. I do. A lot. And I can not say one is more precious than the other ones. They all are.
ga bisa jawab. bukannya ga punya momen special. banyak malah. dan semuanya berharga, tidak bisa disebut satu yang paling.
But would you agree with me, If I say that one of those precious moment is my wedding?
tapi setuju ngga, kalau aku bilang salah satu special moment itu adalah pernikahan?
I'm not telling about my wedding this time. It's my youngest brother's. It was held last Sunday.
Days before the day was full of nervousness, panic, worries... He kept asking about this and that. Made sure that everything was ok, every thing was well prepared. He didn't want to dissapoint any one, including himself.I
aku tidak akan bercerita soal pernikahanku di sini. tapi tentang pernikahan adik bungsuku yang dilaksanakan minggu lalu. hari-hari sebelum hari H dia kelihatan gugup. panik. khawatir.
selalu bertanya ini itu. memastikan semua siap. tidak ingin mengecewakan siapa pun, termasuk dirinya sendiri.
The seconds before the time... did the nervousness raise up?
You bet...
detik-detik menjelang saatnya, makin gugup?
pasti...
He was there waiting for the wali nikah to make them man and wife... (the bride's father)

It is done

And look at the happy faces....

Everybody cried during the moment.. Well may be not every body. But I surely did.
semua orang menangis sepanjang prosesi. ga semua ding, tapi aku jelas..
Have a happy marriage, Bot and Lin!
semoga bahagia Bot dan Lin!
***

I want to tell how the procession was. But it is too complicated for me to translate to English. You can see how basically
islamic matrimonial ceremony is here
I don't have a specific picture of the
form of dowry
of Bot and Lin's wedding. So here it is, I cropped from their aqad picture. 2 dinars and 11 dirhams.