Like a tip of a nail
Yups, Ar sekarang sudah bisa potong kuku sendiri. Hilang satu beban dalam hidup ini.
Yups, Ar now can cut his own nails. A weight in life is unburdened.
Benarkah?
Memotong kuku hanyalah satu beban kecil menjadi ibu. Jika kuanggap saat ini satu beban telah hilang, maka seiring tumbuhnya malaikat-malaikat kecilku, beban-beban yang lebih besar tengah menantiku.
Really?
Cutting my kids' nails is just one small load of being a mother, only a tip of a nail. If I assume this as one weight is gone, so as my little angels grow, heavier weights are awaiting.
Aku percaya, semua kewajiban yang ada di pundak kita, akan terasa ringan jika kita selalu mengerjakannya dengan ikhlas. Dan menyelesaikannya menjadi lebih membahagiakan, insya Allah membuat semakin ringan menunaikan kewajiban lainnya…
I believe, all obligations on our shoulders will feel lighter if we always do it with sincerity. And finishing them will make us happier, and insya Allah, make the other duties even lighter ...
Pertanyaannya, bisa tidak? :D
The question is, can I? :D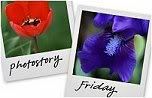 Hosted by Cecily and Lolli