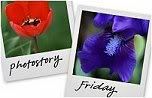 Hosted by Cecily and Linds
I stayed awake till almost midnight, having this imaginairy conversation.
aku ngga tidur sampai hampir tengah malam, terlibat percakapan khayalan ini:
Is this a joke? (I asked)

No it is not

Why are you giving me this?

Because I have to

Why do you have to?

Because you wanted this

I never asked for this
You don't have to ask to tell Me what you want. I always know, and you know that


ini guyon?
bukan
kenapa aku diberi ini?
karena harus
kenapa harus?
karena kamu ingin
aku ngga pernah minta ini
memang. tapi kamu kan ngga perlu bilang apa yang kamu mau. Aku selalu tahu. kamu tahu itu
yeah, right. I said I have had enough. I didn't want more. But deep down inside I wanted God to laugh at me and speak:
you can say you don't want more. but I do. and there is nothing you can do to prevent me from giving you more, when I want to.
I thought I have prepared my self for this since Ar-Ir was six. still I found myself not that ready though. but this
good friend of mine
told me, I still have nine months to get ready. well, ready or not it will come to me, and I will have to be ready.
iya. memang aku bilang sudah cukup, aku ngga mau lagi. tapi sebenarnya jauuuuuuuuuuuuuh di dalam lubuk hati yang hampir tak terjamah, aku berharap Dia tertawakan aku lalau berkata:

terserah kalau kamu ngga mau lagi. Aku masih mau nambah lagi. dan kamu bisa apa kalau Aku berkehendak memberimu?
kupikir aku sudah mempersiapkan diri untuk ini sejak Ar Ir berumur enam tahun. nyatanya aku belum begitu siap. tapi temanbaikku ini bilang, aku masih punya sembilan bulan untuk menyiapkan diri. siap tidak siap memang harus siap. waktunya akan tiba.

one bag. still can not see how many babies inside. needs couple more weeks to find out. wish me luck *sigh*
I never really liked condoms anyway. and I'm glad that I don't have to deal with it for the next (at least) nine months.
pada dasarnya aku memang ngga terlalu suka kondom. jadi kupikir asik juga, aku ngga perlu berurusan dengan benda itu untuk (paling tidak) sembilan bulan ke depan
thanks. you are funny ya Allah, you really are
I'm pretty humorous if you know Me, actually



terima kasih. Kau lucu ya Allah, benar-benar lucu




Aku ini humoris sebenarnya, kalau kamu cukup mengenalKu



so I slept through the rest of the night, in God's warm embrace, peacefully...
aku pun tertidur lelap menghabiskan sisa malam, damai dalam pelukan hangatNya...