Bidadari juga kadang-kadang perlu turun ke bumi
And find out how it feels to climb up to reach the height.
Supaya tahu bagaimana rasanya memanjat untuk sampai ke atas.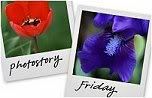 Hosted by Cecily and Sports Mama
Watchout, this time I'm gonna talk a lot, and more pictures than I usually show too.
Siap-siap, kali ini aku akan bicara banyak, dan juga lebih banyak foto daripada biasanya.
Eidil Fitri has always been my favorite annual moment. Like most of Indonesian Moslems do, I guess. It is time when children, parents, siblings, families who live apart – come together. Yes, it is time when dandelion seeds come to where it used to be.
Idul Fitri adalah salah satu momen favoritku. Kayanya semua Muslim begitu deh. Saat-saat seperti ini, anak berkumpul bersama orang tua, saudara, dan keluarga yang tinggalnya berjauhan. Yup, ini saatnya biji dandelion melihat kembali dari mana dia berasal.
This year I meet my siblings in my parent's home, except my younger brother Bond. He is going to his wife's parents this time. I also stayed for couple nights in my parents in laws. Dan's brother didn't come either, he is celebrating Eidil Fitri in Jakarta with his wife's family this year.
Tahun ini aku bersyukur bisa berkumpul dengan saudara-saudaraku, kecuali Bond yang lebaran di keluarga istrinya. Aku juga menginap beberapa malam di tempat mertua. Adik Dan juga tidak bisa datang kali ini, lebaran di mertuanya juga di Jakarta.
I and my siblings always tried to make a good time together, just when we can all stay together for awhile. We have gone to the beaches these last couple years. So this time we decided something different: hiking. Not to a mount too far, only to a hill next to the village we live in. This hill is called 'Gunung Buthak'. In Javanese it means 'Baldy Hill'. I don't know why it is called so. May be because in the dry season all plants in the hill dried. The hill turns to brown and you can barely find a green living plant. Like a baldy head, funny.
Aku dan saudara-saudaraku biasanya bikin acara yang menyenangkan, selagi kita bisa berkumpul. Beberapa tahun terakhir kami pergi ke pantai. Kali ini kami memutusukan untuk melakukan hal yang berbeda. Naik gunung. Bukan gunung beneran yang jauh, sebenarnya cuma bukit dekat tempat kami tinggal. Namanya Gunung Buthak. Entah kenapa dikasih nama begitu. Mungkin karena kalau musim kemarau, semua tumbuhan di bukit itu kering. Warna bukit kalau dilihat dari kejauhan jadi coklat, ngga ada ijo-ijonya. Kaya orang botak, begitu. Lucu.
This is what I am going to talk about. Some thing I have learned from this year's family time. Hiking a hill is not a journey upstairs on an elevator. You need to make your steps on the rock, find the right rock to step on. Some times you find slippery sand layer, and need to hold on a tree – or fall if you failed. You might get scratched by sharp dry grasses or branches. And some thorny wild plants might hurt you.
Ini yang ingin kubahas, sesuatu yang ku pelajari dari kegiatan lebaran kali ini. Neik gunung bukan perjalanan dengan elevbator. Kita harus berjalan mencari pijakan yang tepat. Kadang kaki kita menginjak lapisan pasir yang licin, sehingga harus segera berpegang pada pohon terdekat -- atau jatuh. Banyak rumput dan ranting kering yang tajam dan melukai. Tidak sedikit juga tumbuhan berduri.
Everyone enjoyed the climbing and all it took. Reaching the top was an achievement. We were tired but it was fun. We had a simple breakfast up there. The kids (and the adults especially) made some paper planes and flew it down the other side of the hill.
Secara umum semuanya menikmati perjalanan.
Sampai di puncak itu sebuah pencapaian. Capek sih, tapi senang. Di atas kami sempat sarapan sedikit. Anak-anak (terutama yang tua sebenarnya) bikin pesawat dari kertas dan menerbangkannya ke sisi lain bukit.
But Ibit couldn't enjoy it pretty well. She felt bothered with some sands getting into her shoes. The grass, the dry branches scratched her leg. And it seemed an ant thought she had bother its sunbathe and decided to bite her. Itchy off course. Ibit grumbled along the way up, to the top of the hill. She really didn't enjoy it. I wonder how come. She always wanted to do this before, but when the time comes she didn't like it. I always needed to ask her to smile every time we took her picture.
Tapi Ibit kurang bisa menikmati. Dia merasa terganggu dengan pasir yang masuk ke sepatu, tergores rumput, kena duri. Tambah lagi sepertinya ada semut yang merasa terganggu lalu menggigit Ibit, gatel deh. Jadilah Ibit ngrundel sepanjang jalan sampai ke puncak. Aneh juga, padahal dia pengen banget naik gunung. Eh setelah kesampaian malah ngga suka. Kami sampai harus memaksa dia senyum setiap kali mau foto.
We went down the hill on another path. A rocky path is good for climbing, but is difficult to go down. So we went another direction with almost no rock. Only sands and dry leaves all over the ground. No it wasn't easy if you try to walk on it. It would be easier if you just sit and slide down, and it took less time, much. Again Ibit thought it was no fun. Some stone, she said, has hurt her butt.
Kami turun lewat jalur lain. Jalan berbatu enak buat naik, tapi susah buat turun. Jadi kami ambil jalur yang batunya sedikit. Lebih banyak tanah berpasir yang tertimbun guguran daun. Malah susah kalau jalan. Lebih enak kalau jongkok lalu meluncur sambil tangannya mendayung. Cepet sampai lagi. Tapi lagi-lagi Ibit tidak bisa menikmati. Katanya pantatnya kena batu, sakit.
Come on. I and Dan and my sisters told her, that's the good thing about doing an adventure. How you can get through the difficulties and finally reach the goal: you win. You surely will get some small blisters on your skin, but soon it will be healed.
Plis deh. Aku dan Dan dan saudara-saudaraku berusaha memberi pengertian ke Ibit, itulah hal menyenangkan tentang sebuah petualangan. Melalui berbagai kesulitan hingga mencapai tujuan itu sebuah kemenangan. Pastilah akan ada lecet-lecet sedikit, tapi sebentar juga sembuh.
Have I told you how Ibit has been so very special? My angel. She was able to read when she was four. She is a perfectionist. She sings. She plays piano. She writes stories. She draws comics. She blogs. I just realized that all these time we let her have fun only with her brain while her body didn't do enough. She even spends her resses time in school reading in the library. A little hard out bond activity we did has become too hard for her… Funny. I remember she was going to bring a book going hiking, good thing she put it back when I told to.
Aku pernah cerita kan, Ibit itu istimewa? Bidadariku. Sudah bisa membaca waktu umurnya baru 4 tahun. Sang perfeksionis. Menyanyi. Main piano. Menulis cerpen. Menggambar komik. Ngeblog. Aku baru sadar bahwa selama ini kami membiarkan Ibit bersenang-senang dengan otaknya saja, sedangkan badannya kurang. Bahkan kalau jam istirahat di sekolah, dia ke perpustakaan baca buku. Gerak badan sedikit begini menjadi terlalu berat buatnya. Lucu, waktu mau berangkat naik gunung dia nyangking buku. Untung dia mau nurut waktu kusuruh ninggal aja bukunya.
It's a note for me and Dan, to make a balance to what Ibit 'eat'. Now we are planning to give her more activities like this, so she can enjoy life more than just reading books and get stuck inside her room. I surely hope it will work.
Sebuah catatan untuk aku dan Dan, untuk lebih menyeimbangkan apa yang 'asupan' Ibit. Sekarang kami merencanakan untuk lebih banyak mengajak Ibit beraktivitas fisik, supaya dia bisa lebih menikmati hidup lebih dari sekedar baca buku dan mengurung diri di kamar.
I should have known, too much of something is never good.
Harusnya aku tahu, semua yang serba terlalu itu ngga baik.