Is there any better indulgence, than having the children spending their holiday away at granny's home, and only you and hubby at home? I still have time until Saturday before I have to pick them up.
Apa ada kenikmatan yang melebihi mengirim anak-anak liburan jauh di rumah Embah, dan kita berdua suami aja di rumah? Aku masih punya waktu sampai hari Sabtu, sebelum aku harus menjemput mereka.
Wednesday was the day for Indonesia's President Election, and was a national official day off. Yes I didn't have to go to work.
I voted as early as I could -- and it was 08.30, not early enough actually :P (I woke up at 5.00, did my shubuh prayer then back to bed until 08.00) coz I and Dan planned to spend the day for something more fun than just staying at home.
Rabu kemaren Pilpres, dan jadi hari libur nasional. Yesss... ngga ngantor. Aku nyontreng sepagi mungkin -- yaitu jam 08.30, ngga cukup pagi juga sebenarnya :P (aku bangun jam 05.00, habis sholat shubuh tidur lagi dan baru bangun jam 08.00) karena aku dan Dan ada rencana menghabiskan hari dengan sesuatu yang lebih menyenangkan daripada tiduran dan nonton tipi di rumah.
We went to...
BOROBUDUR TEMPLE
, the amazing temple comprises six square platforms topped by three circular platforms, and is decorated with 2,672
relief
panels and 504
Buddha statues
.
A main dome, located at the center of the top platform, is surrounded by 72 Buddha statues seated inside perforated
stupa
. (
this sentence is just to good to be mine. you are right, I copied it from Wikipedia :D
)
Kami pergi ke... BOROBUDUR! Candi yang menakjubkan, yang terdiri dari enam lapis, dengan tiga lapis lantai berbentuk lingkaran, dihiasi 2.672 panel relief dan 504 patung budha yang duduk di dalam stupa bolong-bolong (
diterjemahkan dengan semena-mena dari Wikipedia)
Borobudur was built by King Samaratungga, one of the kings of Old Mataram Kingdom, the descendant of Sailendra dynasty. Based on Kayumwungan inscription, an Indonesian named Hudaya Kandahjaya revealed that Borobudur was a place for praying that was completed to be built on 26 May 824, almost one hundred years from the time the construction was begun. The name of Borobudur, as some people say, means a mountain having terraces (budhara), while other says that Borobudur means monastery on the high place. (And this sentence was copied from here)
Borobudur dibangun oleh Raja Samaratungga, salah satu raja dari Kerajaan Mataram Kuno, yang masih keturunan dinasti Syailendra. Berdasarkan script Kayumwungan, seorang warga Indonesia bernama Hudaya Kandahjaya mengungkapkan bahwa Borobudur adalah tempat berdoa, yang selesai dibangun pada tanggal 26 Mei 824, hampir seratus tahun dari saat dimulainya dibangun. Nama Borobudur, menurut sebagian orang, berarti bukit yang memiliki teras-teras (budhara), juga bisa diartikan sebagai vihara di tempat yang tinggi (dan paragraf yang ini diambil dari sini).

OK. My own sentences now.
I think it is amazing how people from 8th century has built such a wonderful monument. Sculptured relief telling stories all over the walls. And I think it deserved to be one of The Seven Wonders, years ago. Now it is not, but I think it's okay. It is still a 'wonder' to me. Too many wonderful things in the world, you can not limit it only for seven things, right?
Ok, kalimatku sendiri sekarang.
Menurutku, sangat luar biasa, orang yang hidup di abad ke-8 membangun monument yang begitu megah dan indah. Pahatan relief di sepanjang dinding candi. Dan kupikir Borobudur memang berhak jadi salah satu dari Tujuh Keajaiban Dunia, waktu itu. Sekarang memang engga lagi, tapi ngga papa lah. Bagiku Borobudur tetap suatu keajaiban. Masalahnya, banyak sekali keajaiban di dunia. Ngga bisa dong, dibatasi tujuh aja, ya kan?
it was hi-noon and HOT!
But, I think of something that also amazing, the restoration of the temple. Borobudur was once upon a time buried and become a hill with bushes all over it, and the construction under. I mean... it was built with thousands (even millions) pieces of stone. When it was found, I believe, it wasn't as how it looks in the present time. It must have been messy with parts apart, some are away from where it should be. Now, how can you put the right pieces in the right place?
Tapi, aku berpikir tentang hal luar biasa lainnya, pemugaran candi ini. Borobudur waktu ditemukan, katanya terkubur dan menjadi bukit yang ditumbuhi semak belukar. Maksudku... Borobudur itu kan terdiri dari ribuan (bahkan jutaan) potongan batu. Pada saat ditemukan, aku yakin keadaannya tidak seperti sekarang ini. Pasti berantakan kemana-mana batu-batu itu. Jadi, bagaimana bisa tahu batu mana harus ditaruh di mana?
Look at this small simple example. Just a small piece of the beautiful giant.
How can you be sure that this three head sculpted stone was supposed to be here?
Lihat contoh kecil ini. Hanya satu bagian kecil dari raksasa cantik kita.
Yakin pahatan tiga kepala ini harus dipasang di sini?
Are you sure you don't miss it with this one?
Ngga tertukar dengan yang ini?
Or this one?
Atau yang ini?
Not only to match which head with which body, but it also had to match the story told in the relief..
Bukan hanya harus cocokin badan dan kepala, tapi juga harus cocok dengan cerita yang tergambar di setiap relief.
Ahahaha... I know archaeologists are good at this, but still it is beyond my imagination...
They sad it took 15 years and US$20.000.000, involving professionals from 27 countries. And more than 1000.000 pieces of stone had to be put together, just like doing a giant jigzaw puzzle. Plus 13.000 panels of sculpted stone to clean up and maintain. (translated from
here
)
Ahahaha... Aku tahu itu bagian para ahli arkeologi, tapi tetep saja ga bisa bayangin...
Katanya butuh lebih dari 15 tahun dan 20 juta dollar amerika, melibatkan tenaga profesional dari 27 negara. Dan lebih dari sejuta potongan batu harus disusun seperti mengerjakan jigzaw puzzle raksasa. Ditambah 13.000 panel relief yang harus dibersihkan dan dirawat (diambil dari
sini
)
I still saw here and there around the temple, some parts has been missing. So it is replaced with new stone, but you see, it will never be the same.
Aku masih melihat di sana sini di seputar candi, banyak bagian yang hilang. Akhirnya diganti dengan batu baru, tapi lihat deh, hasilnya ngga akan pernah sama.
Well, how ever, either as a Javanese or just as Indonesian, I feel like I also own Borobudur. And I am so proud of it.
Yah, bagaimanapun, baik sebagai orang Jawa atau hanya sebagai orang Indonesia, aku merasa ikut handarbeni Candi Borobudur. Dan aku bangga banget.
*****************
for Photo Story Friday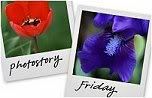 Hosted by Cecily and MamaGeek
and
this weeks Sunday Scribblings prompt:
indulgence

******************************
Dan had lots of better pictures taken with his camera. All pictures here were taken with my Camera-phone. That's explain why I couldn't take any picture of both of us together. With tripod Dan did. But Dan bring the memory card to office today, while I only have time now to write. So any picture will do, I guess.


Dan punya banyak gambar yang oebih bagus, diambil pakai kameranya. Gambar-gambar ini cuma aku ambil pakai henpon, jadi itu sebabnya kenapa aku ga bisa ambil gambar berdua. Dengan tripod Danang bisa. Tapi masalahnya, kartu memori kameranya dibawa Dan ke kantor, sedang aku hanya punya waktu untuk nulis sekarang. Jadi ya... seadanya sajalah.