pagi-pagi bangun tidur nemu ini
I woke up this morning and found this

di dalamnya ada ini
inside the box I found this
dan ini, hadiah ulang tahun dari Ibit. kupon pijat. semuanya ada 16, satu kupon berlaku lima menit. kata Ibit aku boleh membaginya delapan-delapan dengan Dan. tapi aku bilang, "ini kan hadiah ulang tahun untuk Ibu. Bapak dua saja cukup."
and this, is my birthday gift from Ibit. massage-coupon. there are 16 coupons, each is for five minutes massage. Ibit said I can share eight coupons for Dan, but I said, "this is my birthday present. Bapak will get two, enough."
****************************************


lalu kulihat diriku sendiri.
then I look at myself.

anak yang baik? bukan. ada saat aku bersikap sangat buruk. dan kadang membuat orang tuaku marah.
a good daughter? not what I have been. there were times I behaved so bad. some times drove my parents mad.

murid yang baik? juga bukan. kadang aku bolos. dan paling males bikin pe-er
a good student? not what I have been. I some times ran from class. and always been too lazy to do homeworks.

istri yang baik? malu kalau mau ngaku 'iya'. ada saat aku masih membuat suamiku kecewa. dan sering banget bikin kesal.
a good wife? I can't say that's what I have been. there were times I upset my husband. and annoy him so often.

ibu yang baik? tidak bisa dibilang begitu. aku masih belum bisa memberikan sebanyak yang dibutuhkan anak-anak. masih sering bikin mereka kecewa.
a good mother? I'm ashame to claim that I have been. I didn't give as much as my kids need. so many times I dissappoint them.

pegawai yang baik? halah, bukan juga. aku masih ada di daftar atas pegawai yang paling jarang ikut apel.
a good officer? ah, not what I have been. I'm still on the top list of employees with most morning briefing missed.

....

jadi apa yang sudah kuberikan selama hidupku? mungkin yang kuberikan belum cukup, tapi aku berusaha memberikan yang terbaik. aku bukan manusia super, aku hanya wanita biasa.
what in the world have I given, through all the years of my life? may be I haven't give good enough, but I always tried to give my best. see I am not a super person, I'm just an ordinary woman.

well, hidup sekarang bukan lagi tentang aku. tapi tentang tiga malaikat kecil itu. alasan aku bertahan. alasan aku hidup. alasan aku tetap berdiri dan berharap masih bisa bertemu banyak hari ulang tahunku lagi...


well now life is no longer about me. it mostly about those little three. the reason I surfive. the reason I'm alife. the reason I will stand and hope, to still be able to meet more birthdays of mine.

..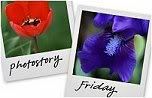 Hosted by Cecily and MamaGeek