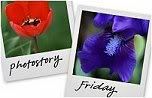 Hosted by Cecily and Angie
I believe, every Mom in the world would agree, when it is so silent – you have to beware. A disaster could be happening. Painting using lipstick on the wall. Messed up toilet paper. Soap and tooth paste all over the wall. Spread cereal.
Semua Ibu di seluruh dunia pasti setuju, kalau suasananya terlalu tenang -- mencurigakan. Bisa jadi sebuah bencana sedang terjadi. Ada lukisan lipstick di tembok. Tisu toilet acak adul. Sabun dan odol diecret-ecret. Cereal disebar.
Usually, Ar + Ir = noise. They do wrestling, they run around the house, the play with the toys, they fight over things. Even when they are drawing, they will be busy telling the story about what they are drawing.
Biasanya, Ar + Ir = berisik. Mereka main gulat, lari-larian di dalam rumah, main mobil-mobilan, rebutan. Bahkan kalau lagi nggambar pun, mulut mereka sibuk bercerita tentang apa yang sedang digambar.
I was wondering what has kept them
busy
silent this time.
Aku ingin tahu apa yang bikin mereka sibuk tenang kali ini.
They got a set of stickers from their creativity magazine. Do you think this is cute? I think it is. But I can not feel the dot on 'F' and 'J' as the guidance to ten fingers blind typing. And can hardly see the letters as well.
Mereka dapet stiker dari majalah kreatifitas. Bagus ngga? Kayanya bagus sih. Tapi aku jadi tidak bisa merasakan titik di huruf 'F' dan 'J' sebagai pedoman mengetik buta sepuluh jari. Dan hurufnya juga ngga jelas dilihatnya.
Well it is cute anyway. I will get use to it sooner or later.
Alah sudahlah, yang penting lucu. Nanti juga lama-lama terbiasa.
***********

And psstt.....
I got a surprise this morning from my bloggie friend Forgetfulone
Dan pssttt.....
Pagi ini aku dapat kejutan manis dari teman blogku Forgetfulone

Isn't this sweet? I am so honored receiving this, as I don't visit her blog every day. Basically no blog I visit everyday. But I do give some time to visit blogs I like whenever I can. Thank you Forgetfulone!
Baik banget kan? Aku merasa tersanjung menerimanya, mengingat aku ini ngga tiap hari mengunjungi blognya. ya, pada dasarnya memang tidak ada blog yang aku kunjungi tiap hari. Tapi aku selalu menyisihkan waktu untuk mengunjungi blog yang aku suka kalau aku bisa. Terima kasih Forgetfulone!